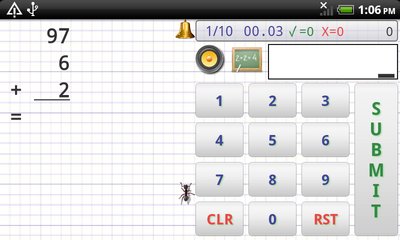 Maths Bug is an Android App Aykira developed to provide a powerful way to exercise and improve your mental maths ability through a combination of activities and tests included in the application.
Maths Bug is unlike any other maths application, it contains a wealth of features and activities all in one. No need to have multiple applications, Maths Bug gives it all to you in one compact application.
Available for Android phones and tablets
Maths Bug can be downloaded now onto your mobile handset and will work with all handsets, such as HTC Desire, Samsung Galaxy and HTC Hero and more!
Open the Google Play Application and enter 'Maths Bug' in the search box and you will be taken straight to it.
Included Features
Ten different activities to challenge you: addition/subtraction, multiplication/division, lowest common multiple, highest common factor, fractions, percentages, algebra, angles & trigonometry, shapes & maths word puzzles.
3 Strikes game mode, 3 lives across all activities, no time limit. A real maths workout!
One mad Maths Minute game mode, get as many correct as you can in one minute.
Extensive sound effects and graphics to keep you engaged.
Create multiple accounts and keep track of your progress and see how you are improving.
Bulit in world wide score tables per test and overall. See how well you are doing compared to others.
Change the background to suit your preference.
Works equally well in potrait or landscape, change in mid test and carry on. Whatever works for you!
Built in blackboard to help you with working out.
Built in instructions and maths resources database on how to perform mental maths tricks.
Less than 1Mb in size, takes up hardly any storage!
Downloaded over 50,000 times, has in excess of 300 Google Plus Likes and a 4.5 out of 5 score.
So try it today, its free to download and use!