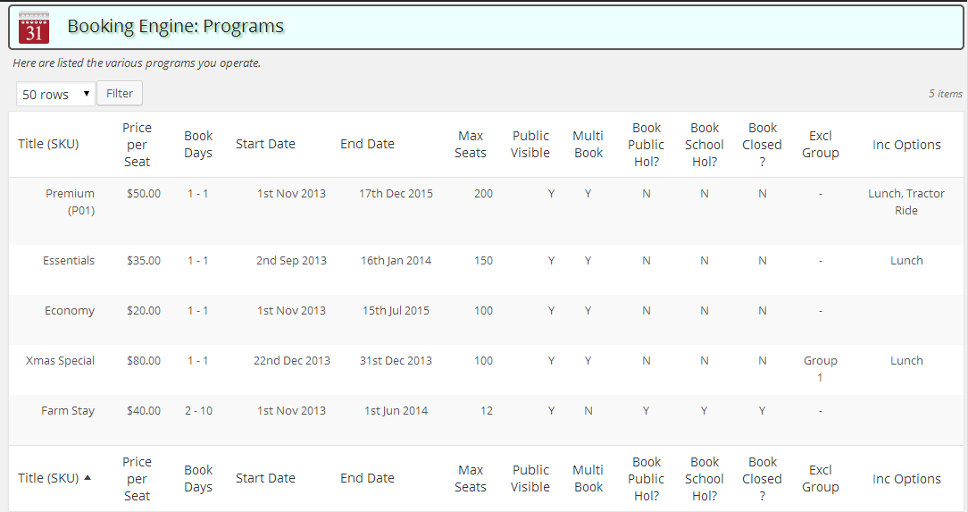 The Aykira Booking Engine WordPress plugin is designed to allow a tourism business to operate an online booking service simply and effectively; all in one well designed solution.
Main Advantages:
Automate and streamline your booking process; give everybody in your business the data they need to operate efficiently.
Control your inventory in real time and see how your tours, activity or accommodation is being booked.
Accept easily online bookings and upsell related products and services. You can also automatically sell Gift Vouchers.
No limit on products, vouchers, users, bookings, channels – use it as little or as much as you like.
Under constant future focused  development based on feedback from our growing customer base.
No danger of overbooking, ever!
The Aykira Booking Engine WordPress plugin keeps precise track of what has been booked, whilst taking note of any dependencies between tickets being booked and resources available on each day. In this way multiple types of tickets can be created, which depend together on different resources (seats, places, etc) with no danger of any one being overbooked.
Safely maximise your inventory and maximise your profits!
All tickets can also have optional extras, which can again be resource restricted. You can also set the number of minimum lead days per ticket, so ensuring you always have time to order ahead any resources you require.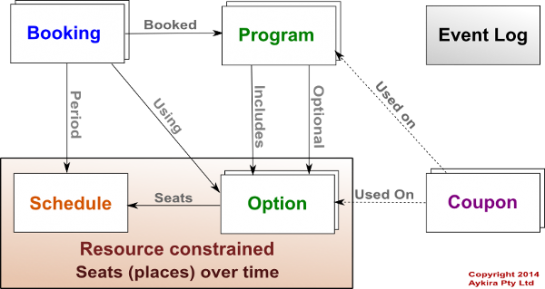 The diagram above shows you the main components of the database behind the booking engine:
Program – This is what people book directly, they do so for a period and consume a number of seats or places. These can exist over a period of time with various controls, they consume Options.
Options – These are what get booked over time, each Option has a limit on places and can have controls over availability.
Booking – This is the record for the actual booking that consumes various Programs and Options.
Schedule – This details what was booked out and when, so we know exactly what the availability is.
Coupon – Various coupons or discount vouchers can be configured to apply to either Programs or Options in different situations.
Event Log – Everything that happens in the system is logged in its own table which cannot be tampered with.
In essence the system keeps a precise track of your availability and will always only show to the customer the exact availability.
The system is very simple to set up and will work well with your existing processes and procedures – you don't have to throw away everything you have now to get the full benefit from an online booking system. Avoid 'lock-in' to one supplier and keep your options open as to how you want to do your accounting and planning.
Simple accommodation booking
Further, the online Booking Engine plug-in can deal with both single day bookings and multi-day bookings. In this way it can be used to provide an accommodation booking service as part of the same system.
Coupons & Discount Vouchers
The Booking Engine has a powerful coupons and discount vouchers system, where they can be restricted to operate with certain programs and periods, and restricted in total number or be dependent upon a prior booking having being made (thereby rewarding repeat custom).
Gift Vouchers
The Booking Engine fully supports Gift Vouchers, including generating the final Gift Voucher to the customer. Yes, you do not have to be involved at all, it's fully automatic. It even takes care of Gift Voucher redemption with the ability for the gift receiver to change their booking details all online – no phone calls or emails to take care of. You can even set the price to be charged for a Gift booking distinct to a regular booking.
Channel/Reseller Support
The Booking Engine also supports Channels, where each channel can be rewarded with the percentage or fixed fee per paid booking. The total fees due per channel appear in the monthly report. No more complex maths to work out. It can also automatically deal with group booking changes and part payments.
Powerful special event handling
Within the booking system you can create classes of tickets that are only available for certain periods, overriding normal tickets for that period. So special day packages or ticket types can be created easily.
Holiday support
You can decide exactly when you are open and what services you wish to offer during national or school holidays and the prices charged.
Full PayPal Integration
Very easy to setup the integration with PayPal, it just works for you. For instance with PayPal you can configure it to generate invoices on your behalf. The system keeps track of what payment is for what Booking always.
Full Stripe Integration
Again very easy to setup the integration with Stripe, it just works for you.
No hidden per booking charges
All you pay is a few percent for using PayPal or Stripe, we do not charge by volume of orders.
Powerful reporting
The booking engine will generate monthly reports, showing you exactly what tickets were sold, monies raised, monies outstanding and any tax liabilities. Further it break down bookings by country.
User Roles
As standard two roles are supported, admin staff who can take bookings and edit records; and normal staff who can just generate reports and see the schedule of bookings but not change anything. There are no limits on staff accounts nor charges per staff account.
Extensive Logging
Built in edit by edit Logging of what was changed, by whom and when.
MailChimp Integration
Simply put in the details about your MailChimp account and list and you can offer people the ability to subscribe to your mailing list when they perform a booking online. Repeat bookings won't cause repeat subscriptions. MailChimp offer free mailing list support for below 10,000 subscribers.
Simple to use, but very powerful
At Aykira we like to design software that gets the job done with the minimum of fuss. The Booking Engine plug-in is fully integrated into WordPress and requires just one page on the site to be reserved to hold the booking form. All access to the Booking Engine admin side is via the WordPress admin login. The booking system software is easy to use and set-up, no peculiar jargon or complex forms – it just gets the job done.
This is only an outline of the features in the Aykira Booking Engine, if you are interested in using the Aykira Booking Engine WordPress plug-in please get in contact with us either by calling (02) 8407 8060 or use our contact form .