We have just made available a free plug-in for WordPress that takes care of setting up Google Analytics and any of the options you may have turned on, like:
User demographics tracking
Enhanced Link Attribution
Usually to turn these on requires editing the Google Analytics JavaScript directly, which can be a bit of a fiddle and difficult to know if you have done so correctly if you are not a programmer. Also it is difficult to see for which sites you have it turned on.
This plugin avoids such problems by providing you some controls over how the Google Analytics code is set up for you in WordPress. Note: You still have to turn on the features in Google Analytics to get them to display, but this is easy.
The plug-in also generates a viewing event on a page if the user scrolls after a given time. This gets over a weakness with Google Analytics in that it too readily counts a single page view as a bounce when the user was actually reading the content of the page. You can set the time after which the event will be generated.
Also if you are logged in as Admin or Editor and viewing your site, the GA code will not be included – this means you get a much more accurate measure of your traffic as your page views will not be counted.
The WordPress plugin is very easy to configure, see the screenshot below: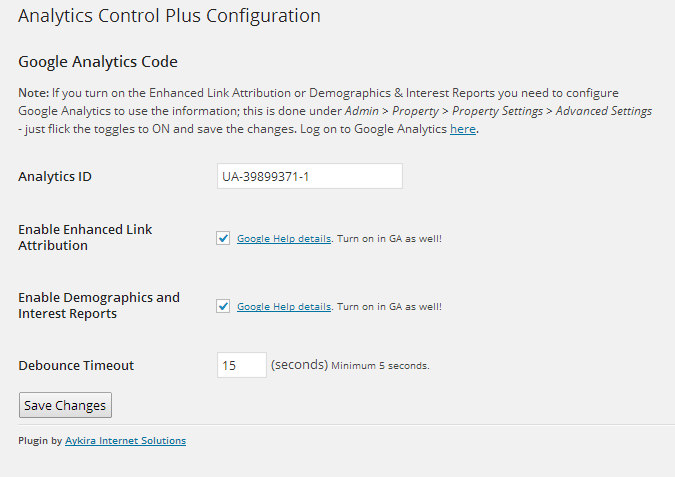 The plug-in is available for free here – all we ask is that if you find the plug-in useful, contribute $5 to the development costs using the PayPal button on the settings screen, or just Like or Share this post.
The plug-in is also available on the WordPress plugin directory here .
Enjoy and let us know how the plug-in worked for you.